Actionable insights & stronger profits
Combining our powerful data analytics technology with highly experienced professionals, our self-funded audit approach uncovers hidden profits, and gives you valuable, actionable insights other providers might miss.
We know you need bottom-line results fast — and that's what we deliver. We work alongside your procurement team to investigate and identify the root causes of discrepancies with suppliers so they can be fixed and eliminated long-term.
Your organization reaps the benefits of recoveries and improved processes that create long-term value and impact for the business.
To strengthen your business, we focus on two factors to decide which relationships pose the greatest financial risk:
Contract complexity
Spend volume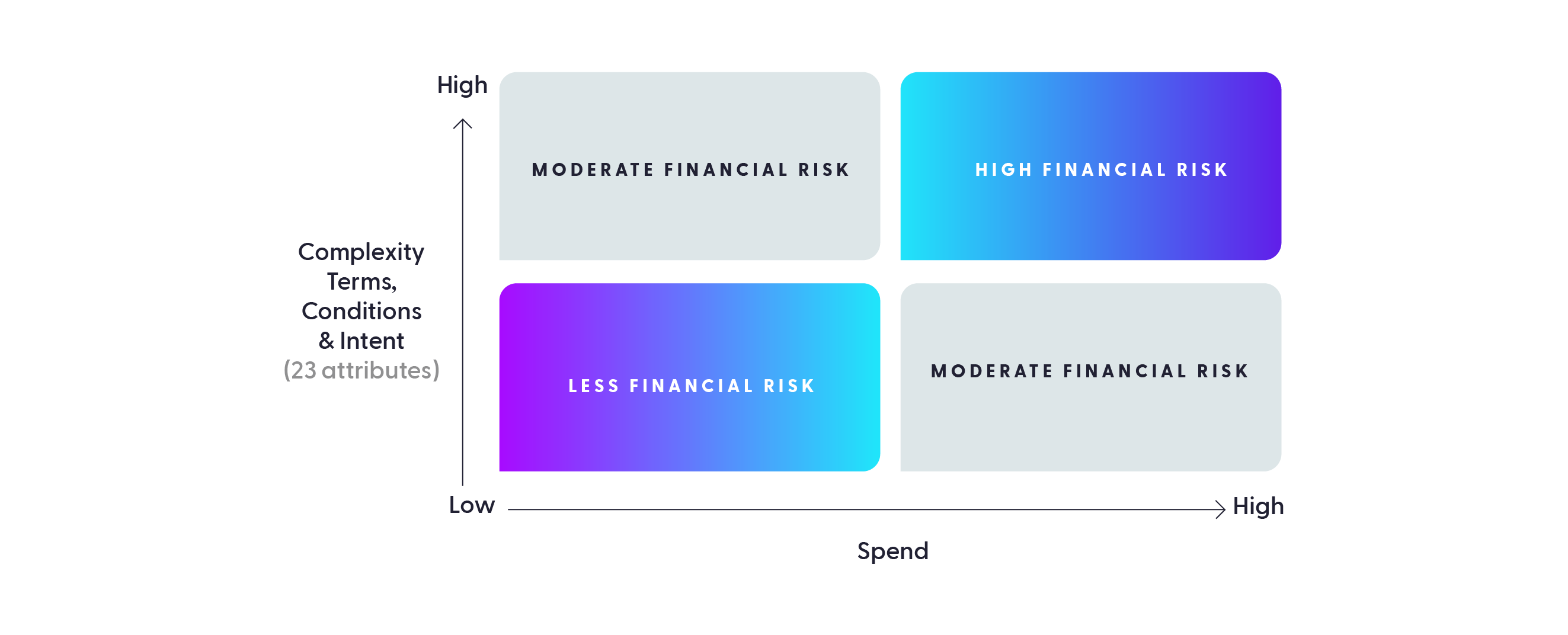 | Elements | Supplier Contract Audit |
| --- | --- |
| Data Audited - Primary Source | Supplier |
| Targeted Suppliers | High complexity/spend contracts, typically high-quality client line-item data does not exist, Typically, indirect spend |
| Annual Supplier Coverage | Typically, 10 to 25 |
| Testing Focus | All material financial exposures |
| Range of Recoveries | .5% to 5% |
| Formally Announced Audit | Always |
| Supplier Interaction | Recurring & direct |
| Claim Attributes | Fact-based to interpretive |
| Client Involvement | Key governance and settlement roles |
| Pricing Structure | Individual supplier |
A comprehensive approach with whole business health benefits
Mitigated risk
We mitigate risk and enhance compliance by improving contract language and strengthening processes.
Healthier margins
Our self-funded audit approach addresses material financial commercial terms within contracts to recover profit and identify future cost savings.
Preventive insights
We identify the root causes of errors, providing the insight to prevent them from happening again.
Working alongside your procurement team, our experts leverage big data contract analytics to find the root causes of discrepancies with suppliers.
Download our PDF to learn more
Why work with PRGX?
Experts at managing relationships, risk and recovery
We've worked with large suppliers around the world and know the value of good relationships. Our vendor-sensitive delivery approach means we work transparently with suppliers to identify improvements in compliance, smooth out discrepancies and recover revenue, whilst taking care of the relationship.
Advanced technology meets global experience
Our proprietary technology minimizes disruption to your business, processing sensitive data and maximizing the use of information for prevention and profit recovery. This technology enables our experienced auditors to turn insights into valuable opportunities for the whole business, fast.
Billing Compliance Audit: achieve maximum value with this complementary, data-driven audit
A Billing Compliance Audit is a complementary contract compliance methodology involving a low touch, data-driven cross-validation of contract terms against purchase, receipt and invoice line-items. Combine it with a Supplier Contract Audit to guarantee supplier contract compliance across your organization.