A comprehensive approach with whole business health benefits
Improve cash flow and find new savings
By digging into transaction-level data pulled from invoices, purchase orders, requisitions, payments, and vendor data, Spend and Payment Analytics identifies savings and improves cash flow.
Smarter processes
Leveraging enterprise-wide data to optimize processes and provide a joined-up view of spend, trends and anomalies.
Low hassle, fast returns
Re-using data already gathered during the AP Recovery Audit cycle accelerates service delivery and ROI, enabling you to quickly gain visibility into trends and anomalies.
Quick deployment, measurable improvement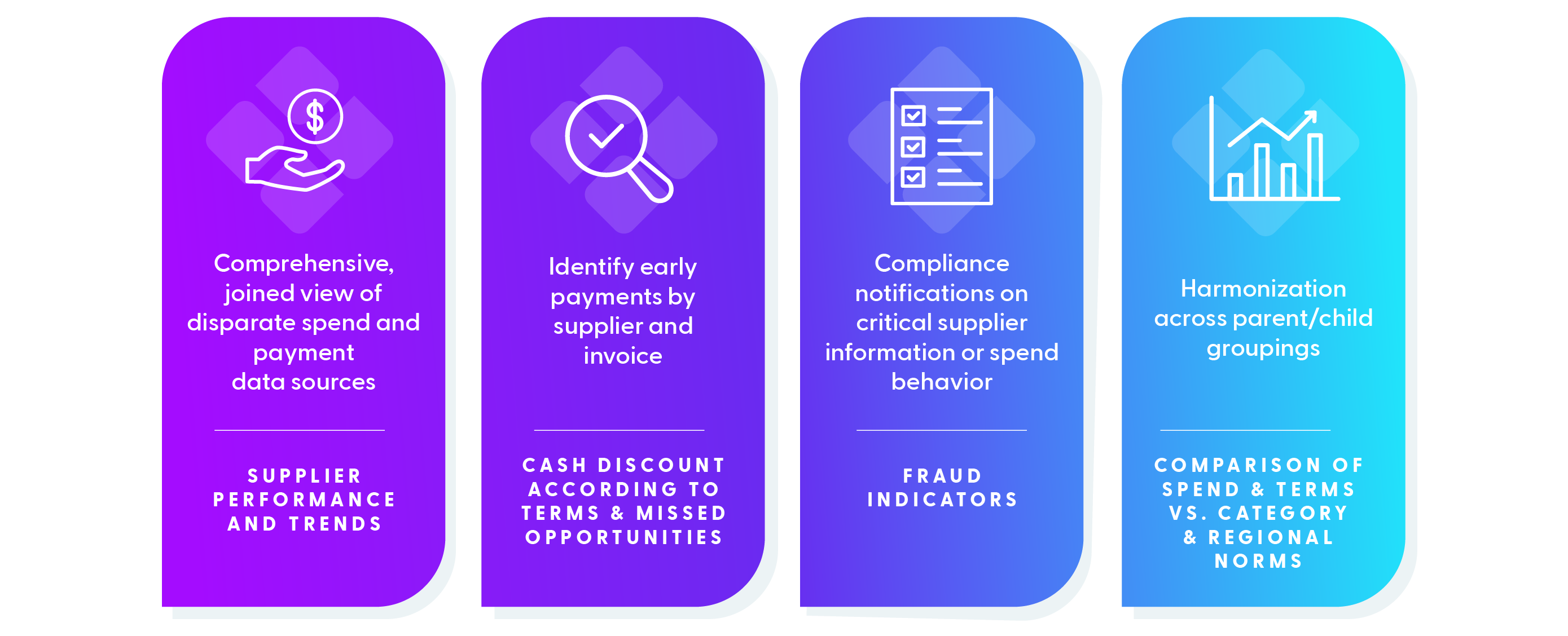 Spend Analytics
Support savings initiatives. Find hidden value in transactional payment data.
Analysis of spend
Comprehensive and centralized view into spend
Union of spend data: vendor master, invoice, POs
Spend trends
Review patterns and identify variances across suppliers, categories, or business units
Quick turnaround on detailed spend analytics
Rationalization
View long tail spend to consolidate supplier counts
Add new insights for additional savings opportunities
Payment analytics: uncover working capital opportunities. Prevent duplicate payments.
Analysis of payment
Invoice-level analysis of days to pay, early and late payments
Aggregated spend by supplier and category
Duplicate payment reporting
Summary by term
Payment term distribution by invoice, aggregated spend and category
Modeling for shifting terms
Harmonization
Identify best discount, days available and terms by vendor
Data consolidation and parent/child matching between client and supplier
Why work with PRGX?
Powerful insights, easy to use interface
As global leaders in source-to-pay audits and analytics, we know the data and review processes required to convert insights into results. With this knowledge, we've designed the PRGX Analytics interface to support end-users in exploiting new opportunities, from automated reports that make it easy to pinpoint precisely where action is needed, to tracking overall value generated for the business.
Putting S2P data at the heart of healthy businesses
We believe S2P data is packed full of insights that can benefit the health of the whole business. From the big picture across departments to the critical details within the supply chain, it's where you can find all the information you need to create healthier processes, relationships and margins — and we have the experience, technology and expertise to help you unlock it.